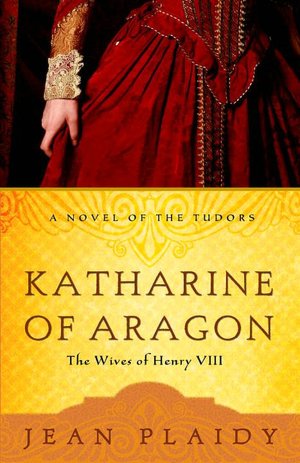 I have read another hundred pages of this book. Since the last time I updated my journal on what I was reading, Katharine and Henry VIII celebrated the birth of their son Henry by having a magnificent christening ceremony and feasts. The poor baby caught a chill and ended up dying a little over a month later. Katharine and Henry were saddened by the news, and at one point Henry blamed Katharine for the deaths of their two young children.

The King tries to be faithful to his wife but finds it difficult to do so when a woman at court named Anne Stafford (a married woman) starts giving him lusty hints. He sends a messenger to her to let him know that he is interested in her. Anne's older brother, the Duke of Buckingham and older sister Elizabeth Stafford both learn of her intentions of sleeping with the king and try to stop her before she does. They get the news from a former lady in waiting of Katharine's, Francesca (whom Anne stupidly told of her plans with the king), who had left Katharine while she was in poverty to marry a wealthy banker below her rank. Two months after Francesca married the banker, Katharine became Queen of England and Francesca felt robbed of her position at court (Katharine was displeased with her for leaving her station and marrying someone below her rank; she refuses to talk to her or listen to her pleas in wanting to join court again).

As this all is going on Katharine suspects she is with child again but does not wish to tell the King right away for if it is not true she does not want to disappoint him. At the same time the Duke of Buckingham comes to take Anne away and orders her to go home to her husband, where he will send her to a convent. She is surprised and shocked by this and the king's messenger had come to fetch her at the same time. His majesty's messenger tells him what has happened and the king of course is enraged. Once Buckingham returns back to court, the king sends him away and his sister Elizabeth (who I believe is Katharine's most trusted lady in waiting) to pack their belonging in one hour and get out of his sight. Elizabeth goes to the queen and tells her why she has to leave, revealing his plans on wanting to have an affair with her sister Anne. Enraged, the queen goes to visit the king where they have their first fight. Katharine comes back to her rooms exhausted and cries her heart out for she fears the King she once loved is now a different man who only wants sons.

Once the Queen goes to sleep, she wakes up to find that she has miscarried the baby she was carrying.

I have to say that reading some of this made me quite sad, because Katharine is my favorite out of all of Henry's wives, and her bravery and resilience is something to be admired. Jean Plaidy knows how to write a good story and get your emotions going. It's as if you can feel what the characters she is writing about are feeling.